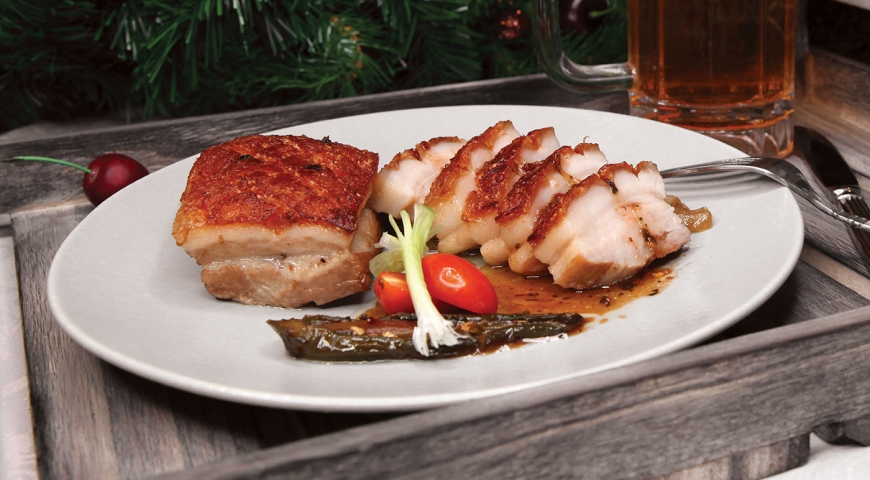 2 lb
pork belly (skin on, 2" strips)
1 Tbsp
Hawaiian rock salt
1/2 cup
reserved pork belly liquid
1/2 cup
apple cider vinegar
2 or 3
green onion stalks
Prep Time:
Cooking Time:
Total Time:
Instructions
In a large stock pot, combine the pork belly, water, bay leaves, Hawaiian salt and half of a jalapeno pepper. Simmer for 35 to 40 minutes or until the pork is fork tender. Remove the pork from the liquid and refrigerate until completely chilled.
Cook the pork belly liquid on medium heat for about 35 to 40 minutes to reduce it to 2 cups. Remove from heat, strain and refrigerate.
Score the skin of the chilled pork belly with a sharp knife; season to taste with salt and pepper.  Heat the olive oil in a saute pan; add the pork belly and sear for 8 to 10 minutes skin down until the skin is crispy and golden brown. Cover pot while searing.
In a small saucepot, combine the 2 cups of pork belly liquid and sugar. Simmer until it starts to bubble, stirring to cook evenly. Add the vinegar and stir well; it will reduce and thicken. Remove from heat and add the fish sauce; stir well to combine.
Arrange the sliced pork belly on a serving plate and finish with the chili pepper gastrique. Garnish with green onions and enjoy with an ice-cold local lager. 
Recipe brought to you by:
Find more Quick & 'Ono bites under these categories: