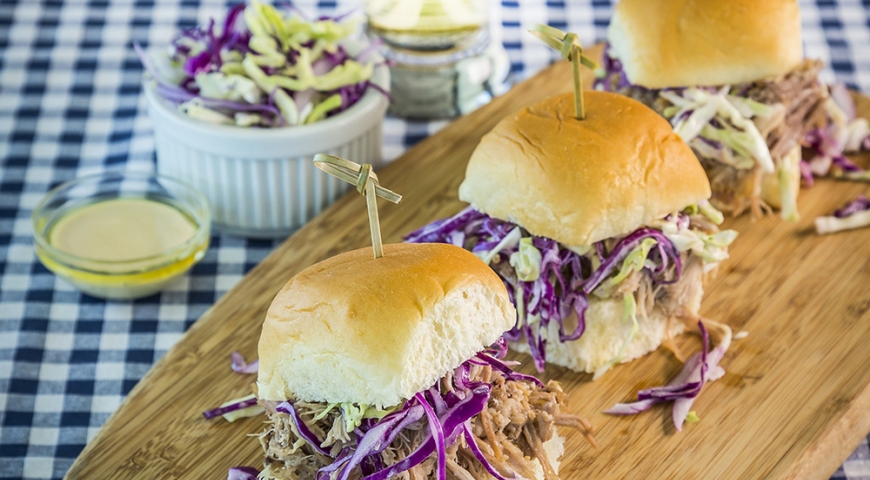 4 lb
pork butt or shoulder
3 cup
head cabbage (shredded)
3 cup
red cabbage (shredded)
1
red onion (small, diced)
Hawaiian sweetbread rolls (cut in half, toasted)
Prep Time:
Cooking Time:
Total Time:
Instructions
Place the pork into a deep roasting pan. In a mixing bowl, combine the soy sauce, water, liquid smoke and Hawaiian salt. Rub the mixture over the pork.
Cover pork with foil and roast in the oven at 350°F for about 3 hours. Remove from oven; leave pork in covered pan for 30 to 45 minutes. Transfer pork into a large bowl and and pull meat apart with a fork. Add the juices from the roasting pan and adjust seasoning with salt and pepper, to taste.
In a separate mixing bowl, add the red and head cabbages, onion, mayonnaise, Dijon mustard, vinegar and lemon juice and combine to make the slaw.
To assemble the sliders, place a small mound of pulled pork onto the bottom of a sweetbread roll; add a spoonful of the slaw then the top of the roll and enjoy with your favorite cold beer.
Recipe brought to you by:
Find more Quick & 'Ono bites under these categories: