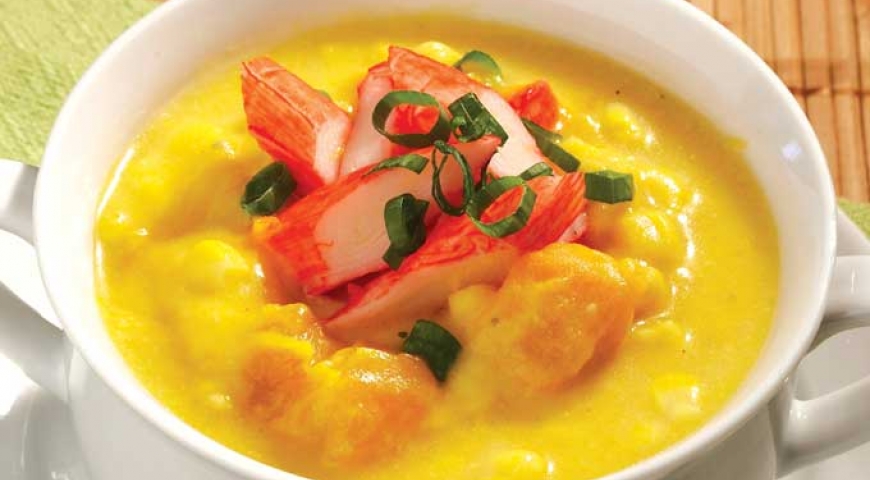 Description
There's something really satisfying about the combination of sweet corn, pumpkin and sweet-salty crab, even if the crab is imitation! In this recipe its best to use the kind of imitation crab that is formed into long "legs" and is individually wrapped. Don't cook too long or the "crab" tends to fall apart.
8 oz
imitation crab meat (½" cubes or slices; can substitute 6 oz. canned crab meat)
2 cup
vegetable or chicken stock
2 cup
kabocha pumpkin (peeled, cut into ½" cubes; can substitute butternut squash)
1/2 cup
instant mashed potato flakes
2 tsp
fresh ginger (minced)
1/4 cup
green onion (thinly sliced)
fresh ground black pepper (to taste)
In a soup pot, melt butter and gently cook minced ginger for about 3 minutes. Add frozen corn, milk, coconut milk, stock, and pumpkin and bring to a boil, then simmer for 8 to 10 minutes or until pumpkin is soft. Stir in the potato flakes to thicken the broth, add the imitation crab, then season with salt and pepper. Divide soup into four bowls, sprinkle with green onion and serve immediately.
Recipe brought to you by:
Find more Quick & 'Ono bites under these categories:
Source: