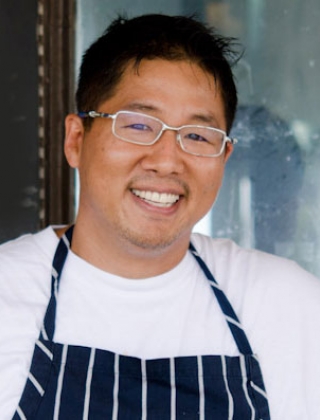 Chef Mark Noguchi has been in Hawaii nearly his entire life, having grown up in Manoa, lived for many years on the Big Island, and now working (and playing) on Oahu. Noguchi (or "Gooch" to those who know him) attended Kapiolani Community College, as well as the Culinary Institute of America, and has worked at some of the leading restaurants on the islands, including Town and Chef Mavro. Noguchi decided to strike out on his own in early 2011, opening He'eia PiermGeneral Store & Deli off the side of a highway, wedged between pick-up trucks and fishing sloops. Noguchi's culinary philosophy—to use only fresh, local vegetables, fish, and meat—is shared by his cooks at He'eia, many of whom grew up fishing at the same pier.
"I cook from an 'āina based perspective. It's important for us to know where our food comes from, it defines who we are. The awareness of this intimate connection keeps me grounded."
Although he prefers to just be known as a "cook," Mark's dedication to empowering his community through food and education has landed him a spot as a leader in Hawai'i's sustainable food movement. He is currently the Chef/co-founder of Pili Hawai`i, a community focused food group.