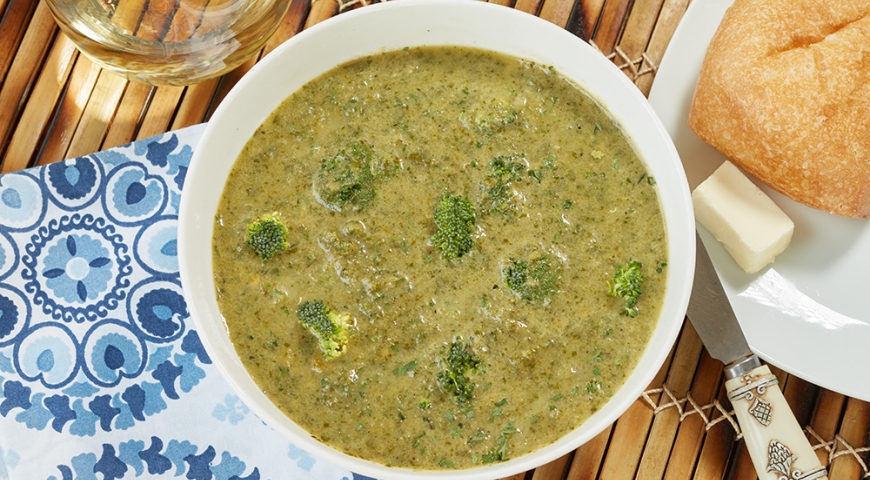 2 Tbsp
extra virgin olive oil
1
onion (medium, peeled, diced)
2 bunch
broccoli crowns & stems roughly chopped (reserve florets from one crown)
2 cup
fresh baby spinach (packed)
2 tsp
granulated garlic or 2 fresh cloves, minced
1 cup
cheddar cheese (shredded)
2 cup
milk (low fat or fat free)
1/2 cup
instant mashed potatoes
Place a large pot on the stovetop over medium heat. Add the oil, onion and thyme and sauté until the onions are just starting to cook. Pour in the broth and bring to a brisk simmer, then add all of the broccoli except for the reserved florets.
When the broccoli is cooked, carefully pour contents into a blender and purée until smooth. Add the fresh spinach and granulated or fresh garlic and continue blending until smooth. Pour purée back into the pot over medium heat, then add the cheese while stirring. After the cheese has melted, add the milk. Bring the soup back to a gentle simmer, and then add in the remaining broccoli florets, chopped into small pieces.
Sprinkle in the instant mashed potatoes mix to thicken the soup and season to taste with garlic salt and black pepper. Add parsley into soup or serve as garnish on top. Enjoy with a nice piece of rustic bread or garlic toast for a satisfying meal.
BEVERAGE PAIRING: Martini & Rossi Sparkling Rose Wine
Recipe brought to you by:
Find more Quick & 'Ono bites under these categories: