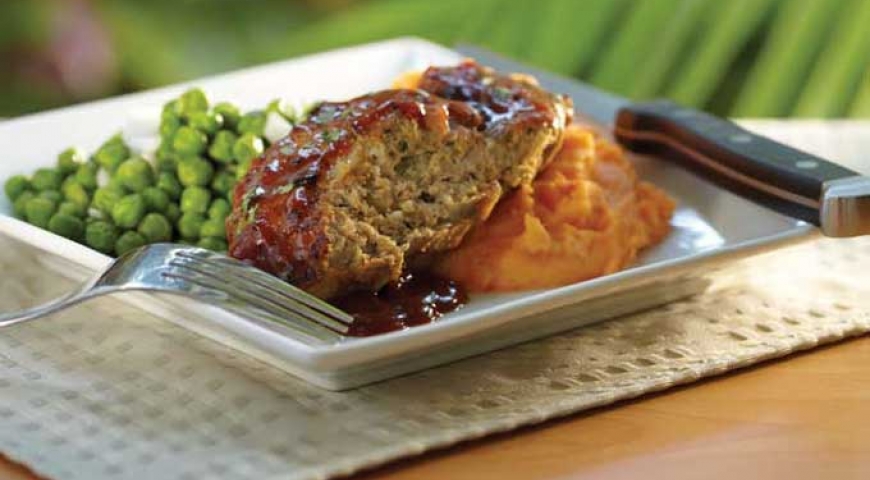 1 tsp
extra virgin olive oil (you can substitute vegetable oil)
1/4 cup
sweet chili sauce
1/3 cup
finely chopped fresh cilantro (garlic chives or green onions can work too)
2 Tbsp
Worcestershire sauce
1/2 cup
whole wheat bread crumbs
To make the glaze, combine all the ingredients in a small bowl, set aside. Pre-heat your oven to 350° F.  
Heat a frying pan over medium heat, add the oil and sauté the diced onion for 5 to 7 minutes, or until browned. Set aside and let cool. In a large mixing bowl, combine the ground turkey with all the other ingredients, folding the mixture thoroughly, not overworking the meat. If you have a rimmed baking sheet, prepare it by spraying liberally with cooking spray. Place the meat onto the sheet and pat into a rectangular shape then put into the heated oven.
After cooking for 25 minutes, use a pastry brush or large spoon to smooth the glaze over the top and sides of the meatloaf. Return to the oven for 10 minutes to complete the cooking process and to set the glaze. Remove from the oven and let rest for 5 to 6 minutes before carving.
Recipe brought to you by:
Find more Quick & 'Ono bites under these categories:
Source: