Double Your Food Bucks
Da Bux is a program (in partnership with the Hawai'i Island Food Basket) designed to encourage SNAP users to eat healthier by promoting the purchase of fresh fruits and vegetables.
Purchase participating Hawai'i Island grown fruits and vegetables with SNAP-EBT and get a 50% Credit (up to a $20) at the checkout! Offer available only at KTA Super Stores Downtown & Puainako during the following dates:
September 20 - 26, 2017
 November 15 - 21, 2017 
October 18 - 24, 2017
December 20 - 26, 2017
Customer must pay full price at the time of purchase. A 50% credit on participating products will be credited on the SNAP-EBT card used for purchase. Processing time may vary. Maximum of a $20 credit per transaction.
FAQs
What is Da Bux?
Da Bux is a program (in partnership with the Hawai'i Island Food Basket) designed to encourage SNAP users to eat healthier by promoting the purchase of fresh fruits and vegetables. During Da Bux days, when customers purchase select locally grown produce items with SNAP (EBT) benefits, they get a 50% credit on those items. In addition to promoting healthier eating habits, by featuring locally grown produce we also help stimulate the local economy.
Why can't I just get the credit in a single transaction?
In order to satisfy the USDA's requirements for the federal grant funding the discounts, we need to confirm that the produce item was purchased with SNAP benefits before issuing the discount. The only way to do this is to ring up the items and have them paid for. We then can calculate the discount earned and issue a credit.
How long before the credited amount is available for use?
The credit will be available on the SNAP (EBT) card using for purchase within 3 to 5 business days.
Why do only SNAP (EBT) recipients get the credit?
The credits are made possible by a multi-year Federal Grant designed to encourage healthier eating habits in SNAP (EBT) recipients by promoting fresh fruit and vegetable consumption. As such, only those with SNAP (EBT) qualify for the credit.
Why aren't the credits available all the time?
The Food Basket only has a limited amount of funds available for the credit. In order to make sure they last through the lifetime of the program, the decision was made to limit the time the discounts are available. Should the Food Basket be able to secure more funding for the promotion, we will look at increasing or extending the dates the credits are given out.
I don't have SNAP (EBT), how does Da Bux benefit me?
Only items locally grown on Hawai'i Island were chosen for the program. This will lead to increased sales on these items, benefiting the local economy, which helps us all.
---
This year marks the 24th anniversary of the Kokua I Na Kula program.
The program began in 1994 and has provided more than $2 million to Hawai'i Island schools to improve the educational experience of its students. 
Mahalo Hawai'i Island for Shopping, Buying and Donating points to your favorite Hawai'i Island Schools 
at KTA Super Stores  between Aug. 9 - Sept. 19, 2017 
KTA shoppers accumulated points for Hawai'i Island schools by purchasing designated products from Kraft Heinz, Nabisco, Natural Directions, Hawaiian Sun, Kimberly-Clark, Frito Lay, Hershey, Pepsi, Hawai'i Food Service Alliance, ConAgra Foods, Banana Boat and Kellogg's. They earned one point for each product purchased to designate to their favorite Hawai'i Island school.
Schools also earned additional points by "Volunteering Kokua for your Community" with The Food Basket or Recycle Hawaii. 
How it works:

 
The Food Basket – Each can of food donated to The Food Basket equals one Kokua I Na Kula Point
Recycle Hawai'i – Each piece of discarded mylar (shiny plastic candy wrappers, chip bags, etc) redeemed for recycling equals one Kokua I Na Kula point.
Last year's program resulted in over 3,000 recycled mylar packages and multiple canned food drives held by schools.
Final Kokua i Na Kula point standings and percentages will be announced in November and the total funds will be awarded to schools in January 2018.
---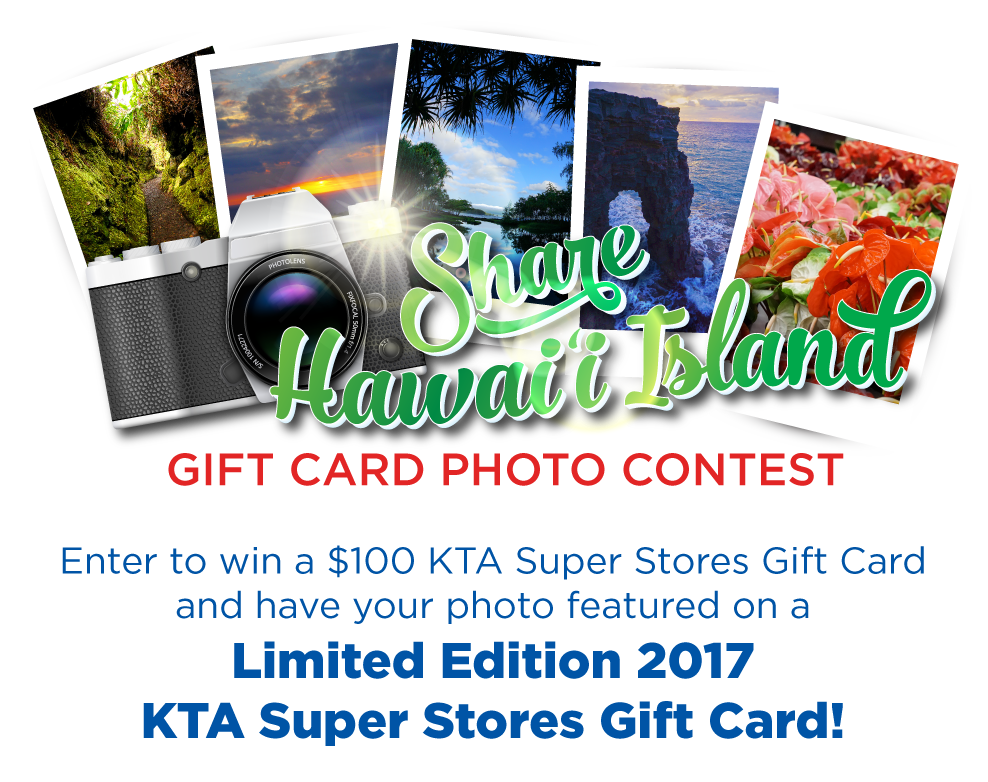 Congratulations to Grand Prize Winner
Tracey Niimi
Submission: Hawai'i Volcanoes National Park
---
Tracey's photo of the Hawai'i Volcanoes National Park will be printed on a Limited Edition KTA Gift Card, available for public purchase by December 2017.
Tracey also won a $100 KTA Super Stores Gift Card.